BOARD OF DIRECTORS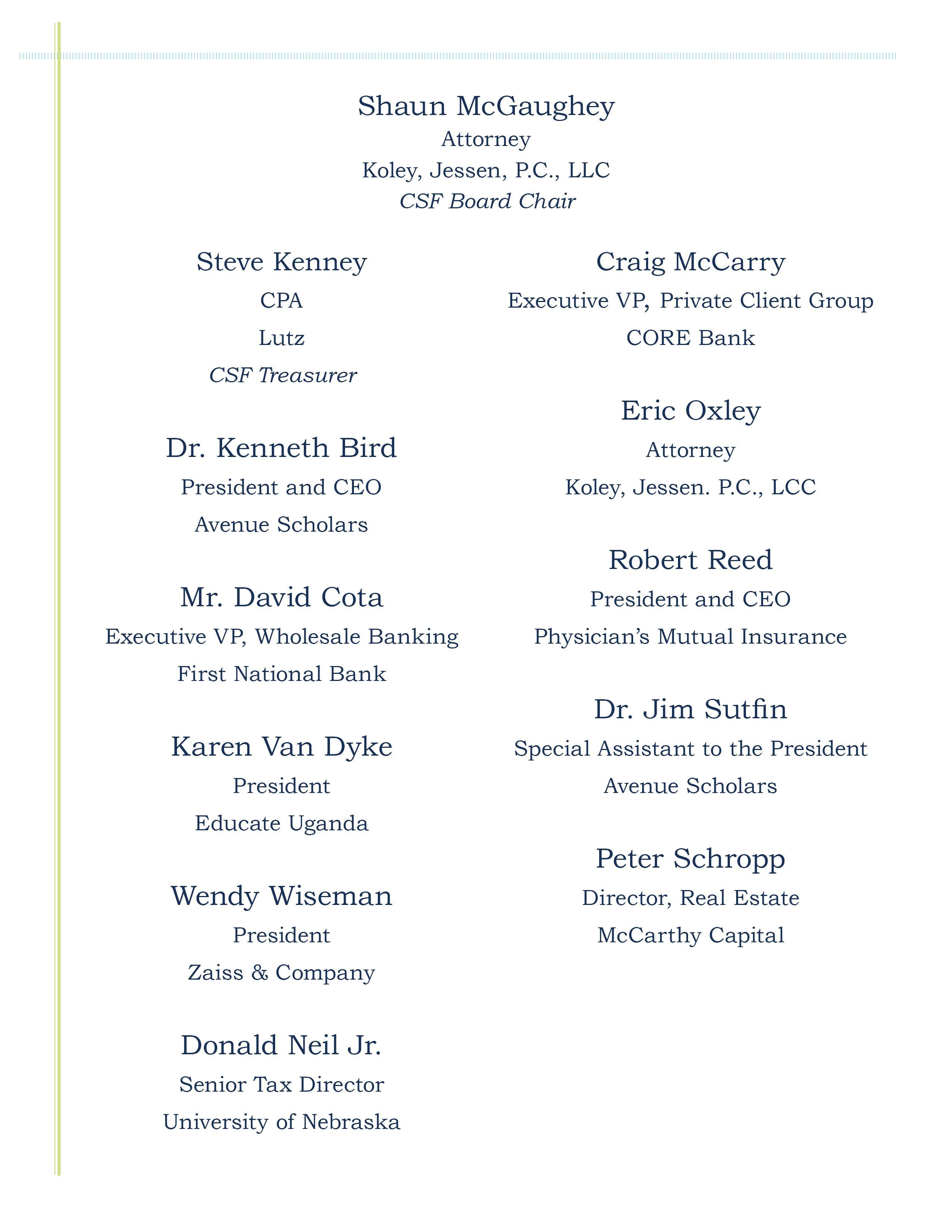 STAFF
Joel Long, MBA | Executive Director

Joel Long has been the Executive Director of Children's Scholarship Fund of Omaha since 2017. Prior to his work at CSF Omaha, Joel worked at the Omaha World-Herald for 24 years as the Director of Communications and Executive Director of Goodfellows Charities.  Joel graduated from the University of Nebraska-Lincoln and received a MBA from Creighton University.  He serves on the board of directors for the Greater Omaha Sports Committee and the Nebraska Sports Council. Joel and his wife Lisa have six children. 

Nicki Rosenau, MPA | Director of Programming and Operations

Nicki Rosenau has been working at CSF Omaha since 2014 and during her graduate studies she completed CSF Omaha's first ever longitudinal evaluation of our program alumni, receiving scholarships between the years 1999 to 2009. After earning her Master's of Public Administration at the University of Nebraska at Omaha, Nicki was promoted to Director of Programming. In addition to her MPA, she received a Bachelor of Arts Degree in English from the University of Nebraska at Omaha. In her free time she enjoys reading books.

Annette Gilner | Director of Donor Relations and Communications

Annette Gilner joined the Children's Scholarship Fund of Omaha (CSF) August 2022. Annette brings extensive non-profit leadership, donor services, and a true passion for education.
Prior to her current position, Annette served as the Chief Development Officer for the Boy Scouts of America, Mid-America Council. As the CDO, Annette played a key role with major gifts, foundations, capital campaigns and strategic planning. She also gained more than nine years of fundraising strategy, major gifts, and public relations experience as the Director of Development for the University of Nebraska Foundation. Annette holds a B.A. from the University of St. Thomas.