Applications are closed and will reopen in February 5th 2024
New Applicants
IMPORTANT! Please read all the information below.
---
Am I Eligible? 
CSF awards scholarships for children in grades K-8 to attend any private or parochial school of their family's choosing.
CSF scholarships are based on financial need only. We follow income guidelines similar to the National School Lunch Program.
See the income scale below for our income guidelines for the 2024-2025 school year: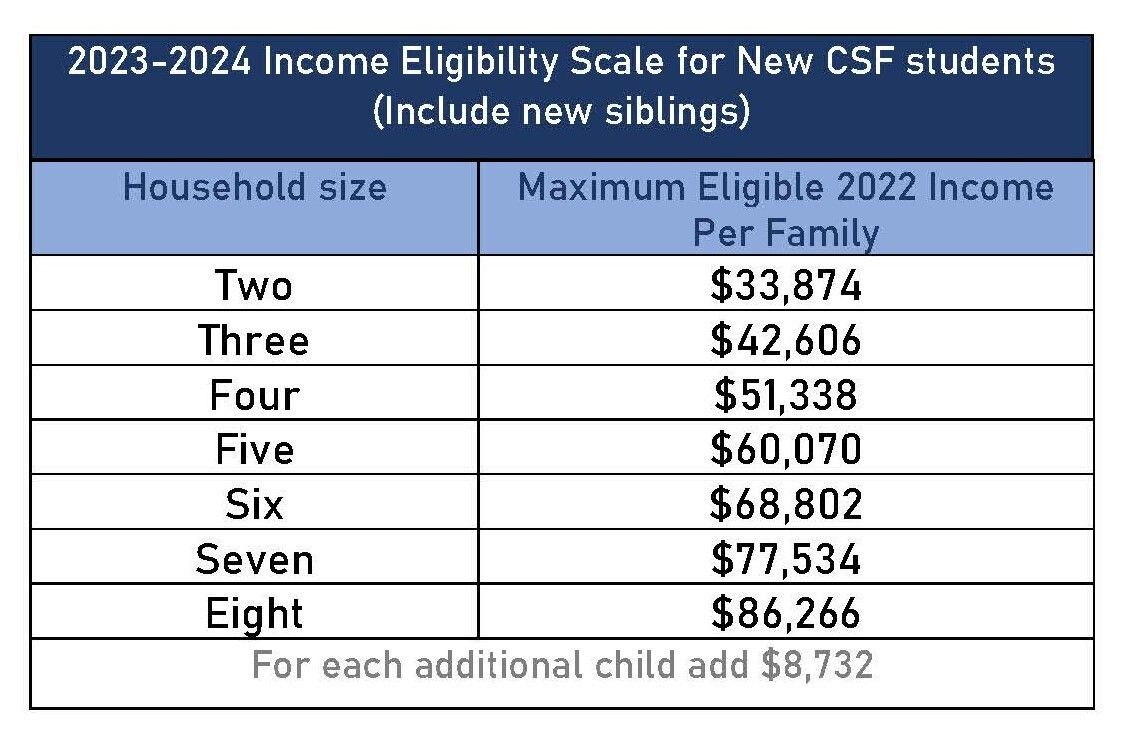 *If your household income exceeds the Maximum Eligible Income for a scholarship, your family is not eligible for a scholarship. If you have questions about your eligibility, please call us at 402-819-4990.
---
Things You Need Before Applying for a Scholarship!
If you have any 2023 income from these sources listed below, you MUST HAVE A COPY YOU CAN ATTACH/UPLOAD to your 2024-2025 application. If you do not have access to a scanner or printer, or need help applying please call our office at 402-819-4990 or call the school your children will be attending for help. 
2023 Taxes, including Adjusted Gross Income (AGI) and list of dependents *black out Social Security numbers

2023 Child Support and Alimony 

2023 Aid to Dependent Children (ADC)

2023 SNAP

2023 Social Security

2023 Public Housing Assistance/Section 8 (OHA)
Your application must show some form of income. If you do not receive any of the above mentioned and did not file taxes for 2023 please contact our office at 402-819-4990.
CSF does not have the capacity to follow up regarding incomplete or incorrect applications. 
CSF Application Tutorials
New Family Instructions
Counties we serve:
Antelope, Boone, Boyd, Burt,
Cedar, Colfax, Cuming, Dakota,
Dixon, Dodge, Douglas, Holt,
Knox, Madison, Merrick, Nance,
Pierce, Platte, Sarpy, Stanton, 
Thurston, Washington, Wayne
---