Scholarships
CSF will begin accepting scholarship applications on February 11 - May 3, 2019.   All applications will be online. No paper applications will be accepted. Review the income eligibility scale below to see if a family qualifies.
Is my family qualified for a CSF scholarship?
CSF awards scholarships for children in grades K-8 to attend any private or parochial school of their family's choosing.
CSF scholarships are based on financial need. We follow income guidelines similar to the National School Lunch Program. See the income scale below for our income guidelines for the 2019-20 school year: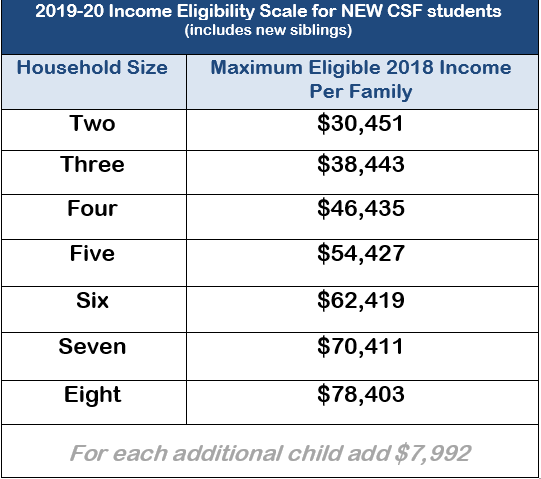 *If your household income exceeds the Maximum Eligible Income for a scholarship, your family is not eligible for a scholarship.
Where can my child attend school?
CSF is destination neutral, and we have no religious affiliation—where your child goes to school is your choice. Click here to see a list of our current participating schools in Omaha. Click here to see a list of participating schools in northeast Nebraska.
Where to get your Income Documents
Frequently asked questions about the Scholarship Application
When can I apply for a CSF scholarship?
CSF's application period generally runs from mid February until early May for the upcoming school year.
Where can I get a CSF scholarship application?
When the application period is open, applications will be online. 
What is the deadline for applications for the 2019-20 school year?
Applications for the 2019-20 school year must be submitted online between February 11, 2019 - May 3, 2019.
What income sources will I be asked to include in my application?
You must report all income sources for your household on your application. This includes:
Adjusted Gross Income (found on federal income taxes)

Child support income

SNAP benefit income

Social Security Income

Public Housing Assistance/Section 8

ADC/Public Assistance

Other income (such as financial assistance from family/friends)
When will I be informed whether my child received a scholarship?
Families will be notified by mail in July as to whether or not your child is a scholarship recipient for the upcoming school year.
Am I guaranteed a scholarship if I fill out an application?
Unfortunately, filling out an application does not guarantee a scholarship. The demand for scholarships currently outpaces our ability to fund them, but CSF encourages you to continue to apply each year. Scholarship recipients are chosen by financial need priority.
My child currently receives a scholarship. Where can I find my requalification application?
Requalification application will be available online.
I am interested in the homeschool program. Where can I obtain a homeschool application?
Please see our homeschool page for more information.