Homeschool
APPLICATIONS ARE CURRENTLY CLOSED.
IMPORTANT! Please read all information below!
---
How it Works
CSF also supports families who choose to homeschool their K-8 children. However, our homeschool program functions differently from our private school program. CSF families who homeschool their students submit receipts for school-related purchases they have made, and CSF reimburses them up to the maximum of $500 per child.
Each K-8 student in your family is eligible for a scholarship. Younger siblings may also be considered for a scholarship once they enter kindergarten. Once you have applied and received a scholarship(s) your family becomes a 'current' family. Meaning each year after applying your scholarship(s) can be renewed IF each year you financially qualify, your application continues to be complete, the correct documentation has been provided, and there is available funding. 
CSF reimburses families once each year - in December. CSF will mail a form to each homeschool family in November. Parents are required to submit this form with their receipts to the CSF office. Any receipts for school-related purchases will be reviewed before approval by CSF staff. For a general guide please reference CSF's homeschool expenses list below. Please remember that you may turn in all receipts that you believe could be eligible and CSF will make the final decision.
Please note: all program benefits are dependent upon availability of funding, a family's continued financial eligibility, and adherence to CSF program requirements.
---
Am I Eligible?
CSF scholarships are based on financial need only. We follow income guidelines similar to the National School Lunch Program.
See the income scale below for our income guidelines for new families for the 2021-2022 school year: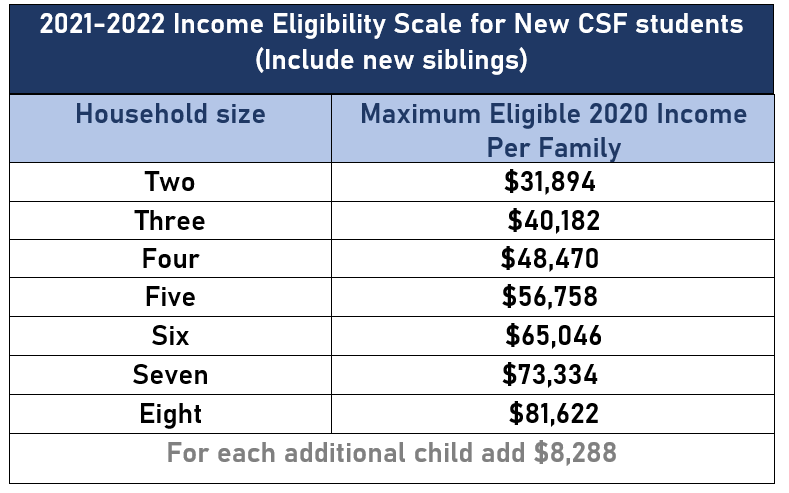 *If your household income exceeds the Maximum Eligible Income for a scholarship, your family is not eligible for a scholarship. If you have questions about your eligibility, please call us at 402-819-4990.
---
Things You Need Before Applying for a Scholarship!
If you have any 2020 income from these sources listed below, you MUST HAVE A COPY YOU CAN ATTACH/UPLOAD to your 2021-2022 application. If you do not have access to a scanner or printer, or need help applying please call our office at 402-819-4990. 
2020 Taxes, including Adjusted Gross Income (AGI) and list of dependents *black out Social Security numbers

2020 Child Support and Alimony 

2020 Aid to Dependent Children (ADC)

2020 SNAP

2020 Social Security

2020 Public Housing Assistance/Section 8 (OHA)

Copy of exemption acknowledgement from the Nebraska Department of Education for the 2021-22 school year 
Your application must show some form of income. If you do not receive any of the above mentioned and did not file taxes for 2020 please contact our office at 402-819-4990. 
Please complete the online application by the stated deadline and select 'Homeschool' as the chosen school.
---
If you have questions, or would like more information on the homeschool program, please contact us.