How to Apply
 2019-20 applications are now closed
Applications for the 2020-2021 school year will open in February of 2020. CSF will require 2019 income documentation at that time, please save it for that purpose. 
---
Am I Eligible? 
CSF awards scholarships for children in grades K-8 to attend any private or parochial school of their family's choosing.
CSF scholarships are based on financial need only. We follow income guidelines similar to the National School Lunch Program. See the income scale below for our income guidelines for the 2019-20 school year: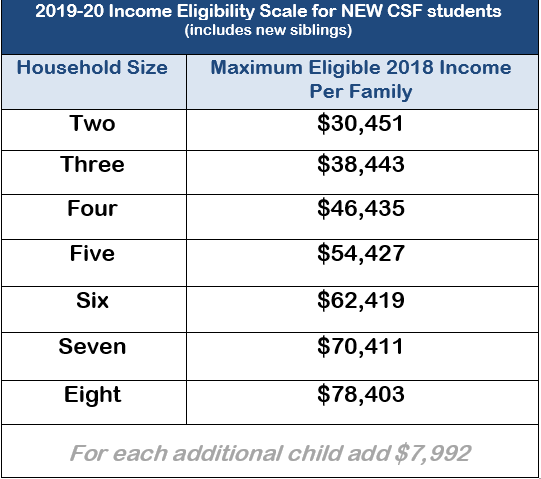 *If your household income exceeds the Maximum Eligible Income for a scholarship, your family is not eligible for a scholarship.
---
Needed financial documents for the 2020-21 application:
If you have any income from these sources in 2019, documentation must be provided showing amounts received.
2019 Taxes, including Adjusted Gross Income (AGI) and list of dependents *black out SS numbers

2019 Child Support and Alimony 

2019 Aid to Dependent Children (ADC)

2019 SNAP

2019 Social Security

2019 Public Housing Assistance/Section 8 (OHA)
Your application must show some form of income. If you do not receive any of the above mentioned and did not file taxes for 2019 please contact our office and we can further discuss the application process as it regards to you.
Income Resources English and Spanish

Use the above link of helpful resources to get all the income documentation you need for your application!

*The 2020-21 school year applications will require income documentation from the year 2019.